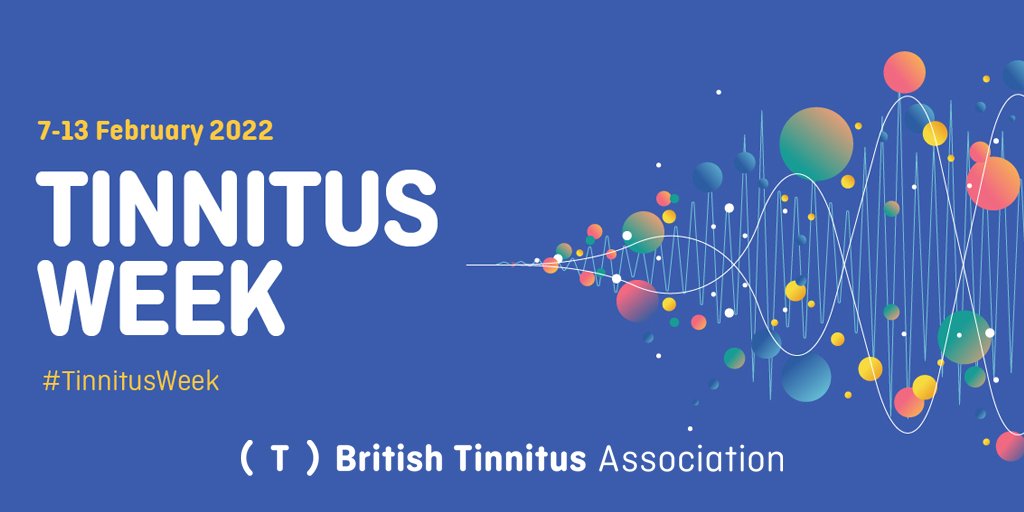 Tinnitus Awareness Week
This week is Tinnitus Awareness Week (7th-13th Feb 2022).
According to the British Tinnitus Association, Tinnitus is the sensation of sound in the absence of an
external source. The sound may be a ringing, whistling, or rushing sound, or it may be more complex
like machinery or the twittering of birds. Although the sound may not be present all the time, when
it is noticeable it tends to be a steady noise with no frequent or regular changes in its loudness.
The experience of tinnitus is different for different people. Most people find that they are able to
continue their normal day-to-day activities. However, a small percentage of people with tinnitus
report it as severely impacting their quality of life.
Tinnitus is very common and is reported in all age groups, even young children. About 30% of people
will experience tinnitus at some point in their lives but the number of people who live with
persistent tinnitus is approximately 13% (over 1 in 8). Tinnitus is more common in people who have
hearing loss or other ear problems, but it can also be found in people with normal hearing.
The first person to talk to is your GP. You may need to be referred to an Ear, Nose and Throat (ENT)
Surgeon or an Audiovestibular Physician, who will investigate any potential underlying medical
factors, assess your hearing and probably give you some information about what tinnitus is and how
best to manage it. Some hospitals have hearing therapists or specially trained audiologists who are
available to offer more support if you need it. If you are referred to a specialist tinnitus clinic, and
your tinnitus is particularly troublesome, you will be introduced to more formal or structured ways
of managing tinnitus. Most centres use a combination of approaches, often including Tinnitus
Retraining Therapy (TRT), Mindfulness and Cognitive Behavioural Therapy (CBT).
Additionally, there is evidence to support manual therapy for tinnitus that may be related to neck or
jaw conditions. A recent clinical trial investigating the effects of cervico-mandibular manual therapy
in patients with temporomandibular pain disorders (TMD)s and associated somatic tinnitus
concluded that application of cervico-mandibular manual therapies in combination with exercise and
education resulted in better outcomes than application of exercise/education alone in individuals
with tinnitus attributed to TMD.
Please also see a review from one of our patients below:
"After years of living with permanent tinnitus, I found Stephanie who has been absolutely fantastic
in treating the condition through neck and shoulder manipulations and exercises. In just a few
treatments, the tinnitus has reduced hugely and I now have many days of blissful silence. Stephanie
has been absolutely remarkable. She understands the condition, spent time researching it and has
managed to turn this around very effectively. The practice is welcoming, very safe and comfortable
and I would highly recommend it to anyone seeking treatment and improved wellbeing."
For more information or to book appointment, please call us on 01788 560646 or visit us at
rugbyosteopaths.co.uk
Thank you