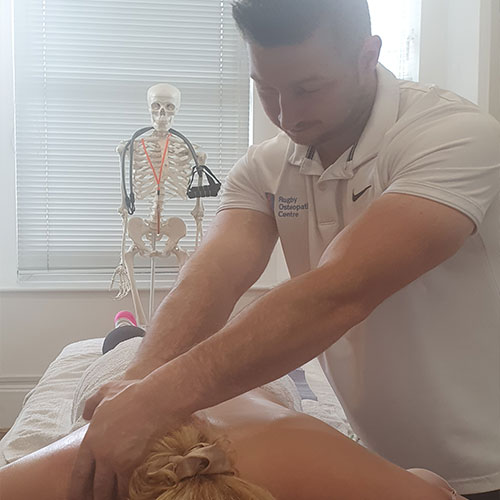 What is a Sports massage?
Sports massage is a form of manual therapy involving the manipulation of soft tissue to benefit a person not only from regular physical activity, but from everyday aches and pains.
Why choose us?
At Rugby Osteopathic and Sports Injury Centre we offer Sports massage as part of a sports therapy treatment. Sports therapy is an aspect of healthcare that is specifically concerned with the prevention of injury and the rehabilitation of the patient to optimum levels of functional, occupational and sports specific fitness, regardless of age and ability. Despite the name, sports therapy can be used to treat a wide range of injuries, whether it be conditions arising from a sporting activity or general life aches and pains.
Sports Massage Therapists Vs Sports Therapists. What's the difference?
Sports Therapists and Sports Rehabilitators are trained to Degree level and are trained not only to a high level of sports massage but can provide more advanced manual therapy techniques.
Sports Massage Therapists are trained to certificate/diploma level and are trained to deal with minor/non-complex complaints.
What else can be offered during a sports massage treatment?
Tool assisted soft tissue mobilisation (IASTM)
Joint mobilisations & manipulation
Dry needling & medical acupuncture
Ultrasound & electrotherapy
Kinesio taping
Myofascial cupping
Rehabilitation exercises