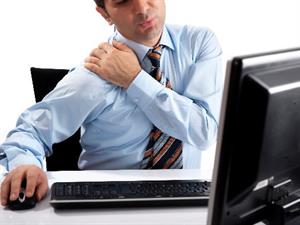 Working from Home?
Did you know, roughly 80% of people in the UK are at risk of harming their body due to working in a sedentary state for prolonged periods of time?
And now with so many people working from home it is important to look after our health and prevent any injuries from arising. The first way to help this is trying to fix our working posture. Here are some useful tips on how to achieve that:
Make sure you have a balanced head and are not leaning forwards too much, this can increase the strain on your eyes and neck, leading to headaches and neck pain.
Arms should be relaxed by your side at 90 degrees on the desk. Think of your arms being in an L shape but within good distance to the keyboard in front of you.
You can also help this by sitting back in the chair which helps to ensure good arm support.
he screen should be approximately arm's length away from you.
The top of the screen should be at eye level.
There should be a small space behind the knee in between your knee and the chair.
Feet should be flat on the floor or on a footrest.
Avoid crossing your legs- this can cause circulation problems and increase the strain and pressure on your pelvis and lower back.
Make sure you take regular breaks every half an hour and consume lots of water to keep yourself hydrated!
A lot of patients have found these simple steps have massively impacted their health and working environment.
Now that many people are working from home we are finding that their work stations are aggravating their symptoms even if they have done a standard DSE check through work .If you would like a personalized osteopathic work station assessment done via video link with the osteopath please click on https://www.rugbyosteopaths.co.uk/Book-Online.aspx and chose Telehealth Osteopathic Work station consultation . As osteopaths we will be looking at your workstation and ways that we can help you adapt it to minimize any Musculo-skeletal discomfort. We have found that making these simple changes can have a dramatic effect on people's pain.
We are also offering consultations for work related injuries, these consultations will also include advice on ergonomic set up and getting the best out of your home working environment.
And remember, looking after your physical health will also help your mental health and ability to manage stress. Neurologists have seen an increase in stress induced headaches since the start of the Covid-19 pandemic. Unfortunately, migraines and tension type headaches thrive with inconsistency. One of the most common causes of these headaches are increased stressors, depression, not sleeping well, missing meals, and having a poor posture. Something we touched on in the last post.
This all leads to chronic muscle tension, stiffness within your joints and can also cause secondary problems. Typically, people will experience pain around the base of the skull, temples, and neck. A few things that can be done at home to help ease this tension involve:
Making sure you are getting enough sleep
Drinking plenty of water to hydrate yourself.
Taking regular breaks from work.
Exercising regularly.
Doing something that you find relaxing and enjoyable will help decrease any unwanted stress.
Also remember, we have a great team at the clinic who specialize in headache treatment and prevention. We would love to be able to help with any concerns or pains that you have.
To book an appointment please click on https://www.rugbyosteopaths.co.uk/Book-Online.aspx
Or for advice from an Osteopath please ring 01788-560646