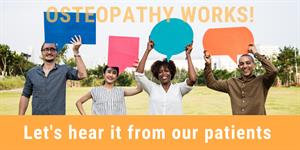 Share Your Experience!
We love to hear how we have helped our patients to improve the quality of their lives. It is just as rewarding to hear that when they come to see us the whole experience is great for them.
Why not share the benefits of osteopathy?
Tell others your experience, and help them to find osteopathy.
You can review us on Facebook and Google, and you can write a review for our website. If you need any help please be in contact.